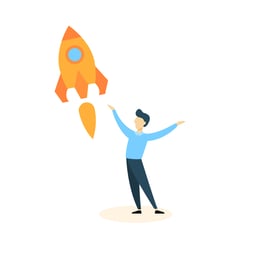 I always tend to see the glass half full, it is my personality. But at times like these I think that vantage point is a best practice. We need to look for good news, not listen to all the awful news being constantly thrown at us in the media. So, I hope you will take a few minutes to read this and know that there are good things happening. A friend of mine (who I promised shall remain nameless) shared the following with me:
As we got into our Zoom discussion my friend said about the quarantine, "I'm over it!" He went from supply chain management/procurement, to sourcing PPE for his organization. All while working at home with a 2 year old. So, I can see why he is over the process. He said he had to source the PPE by day and do his real job at night. I think there are many people who are working more than ever during this crisis. As our dialogue continued my friend did have some good news to share and our conversation shifted. He said his company was on budget for April and May, had done zero layoffs or furloughs and none were anticipated. He went on to share that he is currently hiring for his department and has taken his internship program virtual. He did say they as an organization his company was looking at cost cutting; but directing it on things like subscriptions to software that are nice to have's, but not necessities. He said his company is redirecting spending to things like temperature scanners for call/logistics centers and PPE. They want to keep their employees safe and provide them the opportunity to return to their job sites.
I think my friend's business represents many companies out there. Organizations that still need fresh talent, are engaged with interns virtually and leveraging new processes to open their corporate offices and storefronts. Like my friend I know we are all "over it", but let's see the glass half full.