Uncovering Leadership Lessons in the Strangest Places
CRI
September 27, 2023 at 6:40 PM
In this episode of "The People Part of Business" podcast, we sit down with Dave Gilbertson, SVP - Portfolio Support at Audax Private Equity, as he recounts his remarkable professional journey, spanning the minor leagues of baseball to the open mic of the comedy stage and ultimately to a thriving career in corporate strategy. Dave's unconventional path proves that there are learning opportunities EVERYWHERE.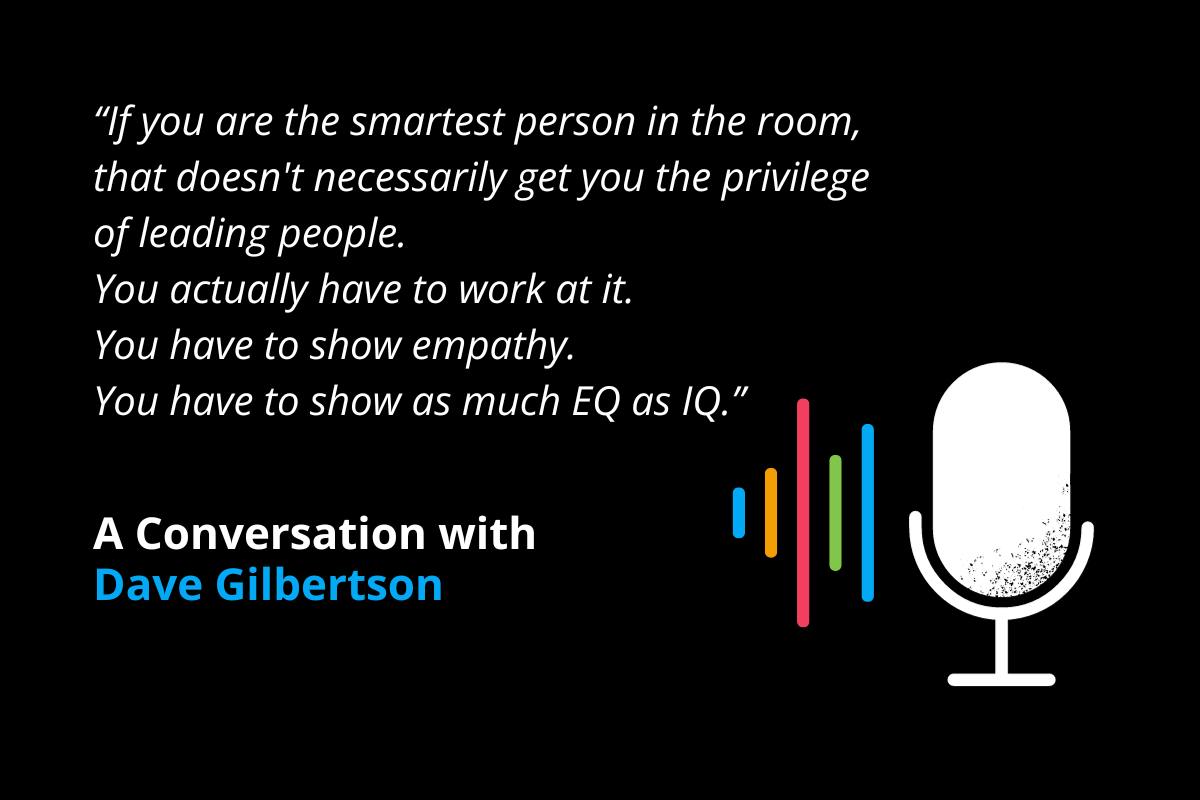 Dave shares the wisdom and perspective he gained from his close friend, comedian Louie Anderson, and how once-in-a-lifetime opportunities granted him valuable lessons essential to his leadership roles in the HCM and private equity industries. This episode will resonate with HR leaders seeking fresh approaches to engage with their workforce and fuel their efforts to attract, retain, and engage top talent. Read on (or listen with the link) for a captivating conversation with the inspiring Dave Gilbertson.
Our Conversation with Dave Gilbertson
Tiffany Vine - Account Manager, CRI
Hello everyone and welcome to the People Part of Business podcast. My name is Tiffany Vine and I am an account manager here at Corporate Relocation International and I am joined by my co-host...
Carlos Huereca - CHRO/COO, CRI
Hello everyone, I'm Carlos Huereca, head of HR and we are thrilled to welcome our next guest. We have a great episode for you. The mission of our podcast is to highlight thoughtful leaders around topics of leadership, development, and coaching and we are certainly excited to welcome our next guest, Dave Gilbertson. Welcome and thank you for joining.
Dave Gilbertson - SVP, Portfolio Support, Audax Private Equity
Thank you. Absolutely a pleasure to be here.
Carlos Huereca
Well, why don't you tell us a little bit more about yourself?
Dave Gilbertson
Sure. Yeah. I'm Dave Gilbertson and I live just north of Boston. I've got three little kids, and that keeps me very, very busy. I did a very typical kind of career progression, going from Minor League Baseball to standup comedy to corporate strategy in the technology world, specifically focused around HR. So yeah, I'm sure you hear it all the time. So I have had so much fun and all of those early experiences gave me all kinds of lessons, some of what not to do...but a lot of them are what to do from a leadership standpoint. I think most recently I've been an industry consultant here for the last couple of years or I guess 18 months or so around the Human Capital Management space. But prior to that, I had spent the prior seven years at Kronos and UKG, really deeply studying what companies are doing to recruit people, retain them and what some of the strategies are that they can use going forward in just a really difficult labor environment...a really tough labor market.
Carlos Huereca
It sure is, and I definitely want to ask a ton of questions around "How do I track, retain and develop talent?" But before we go there, I hope you don't mind if maybe we start with a little bit of the background. I'm intrigued for you to share a little bit more about the standup comedy. How did you get there?
Dave Gilbertson
I sat next to the right person on an airplane. Honestly, it's the craziest thing. It was absolutely craziest thing. This is going back a little over 20 years ago and I was working in the private equity world. I was commuting from Boston to LA every week. It's a heck of a commute.
Carlos Huereca
I see the correlation...private equity, stand up comedy...
Dave Gilbertson
Yeah, yeah, right. Exactly.
I actually grew up in North Dakota, and so I was heading from Los Angeles back to North Dakota for Christmas one year and we had a flight delay and I look up and I see I'm sitting right next to Louie Anderson, who was one of my comedy heroes and one of the greatest comedians of all time. And I figured "I've got a captive audience." He can't go anywhere. And so I just started chatting him up and we had a great conversation. It turned out he was working on a book at the time called "The F Word - How to Survive Your Family," and he was looking for some help. So we actually talked about it all the way back.
He was doing a show that week with Roseanne Barr back in Minneapolis and asked me to come to the show with my family. We did, we hung out, and we just kind of kept the conversation going. And once we got back to LA, I'd work in LA during the day and then hang out at his house at night and we'd work on the book and just kind of talk about family, talk about life. And we just got to be really good friends. And after a few months, he was hosting the Family Feud at the time, and after a few months he had decided to leave the Feud after a few years and was going to be going out on the road to actually push this new book that was coming out. And I knew that I had about a year or so before going to Business School. And he was wondering, he said, "I'm leaving my manager because I'm leaving the Feud. Do you want to be my manager?" And I was like, "I don't know how this is gonna work, but yeah, absolutely! Sounds like a blast." And so for the next year or so, we just toured the country and I got to see the funny business up close and it really was extraordinary.
The lessons that I learned from standup comedy were some of the best leadership lessons that I still take with me to this day. Over 20 years later, I think the most lasting impact for me was just the friendship that I gained with Louie. But at each step of my journey along the way, I've been able to use those lessons from standup comedy as a leader and as kind of as somebody who tries to move people and get people all rowing in the same direction.
It is extraordinary when you think of what a standup comedian does to go up alone on a stage with nothing more than a microphone and, you know, think of any comedy show you've been to... you're walking into that theater with the weight of the week on your shoulder, right? You're thinking about home. You're thinking about work. A lot of folks are thinking about their kids and getting a babysitter. And all that stuff. And as a comedian, you have to make all of that drift away with the connection that you make with your audience. And there's a lot of parallels to leadership. I just found it to be fascinating.
Tiffany Vine
You know, I have to ask, what was it about your background in private equity that made you say "yes" when he asked if you wanted to be his manager? What gave you that confidence to say, "I can do this"?
Dave Gilbertson
So, I had no idea what gave me the confidence to say it, but I will say that I had actually started out my career in Minor League Baseball. I'd spent a little bit of time in radio and had actually written a book about my experience in Minor League Baseball. I played one inning in professional baseball - I had the shortest career in the history of the game, and so really, after writing that book, I had a great experience. I really enjoyed my time on the radio. I knew that I'd have a business career kind of the rest of my career. But I also knew that I had this unique time - about a year between being in the private equity world and going to business school - and I wanted to make really good use of that one year and for me that was going to be spending it in the communication space in some way.
Every senior leader that I talked to, every single one of them mentioned how hard it was to develop themselves as a communicator. In some regard...kind of understanding a new industry and understanding the dynamics and getting really good at a specific function... it's pretty straightforward. There's a playbook for that. But there's no playbook for how you develop your communication skills along the way to make sure that you're bringing your whole team along with you. So that was the conscious part of it - I really wanted to spend that year focusing on communications because I knew that I'd make good use of it later.
It had never possibly crossed my mind that standup comedy would be the way to do that, but when it presented itself, fortunately I said "yes." And I think back often to just how much that that one flight changed my life. Think of how many flights we have gotten on where you put your headphones on, you pull up your phone or your iPod or your open your laptop and you're just kind of zoned out. And I know that I would have missed one of my best friends of my life if I had done that. Or if he had done that.
Carlos Huereca
That's a great story. So, you wrote a book. Keep me honest...I think you did a Ted Talk about this experience in standup comedy. You talked about leadership lessons. Tell us one and how do you use that today in the present time?
Dave Gilbertson
Yeah. So one that stood out actually, well, I'll tell you two...one is with Louie and then one was more my own experience. So, it was early in the tour. We had this stretch...it was a couple weeks stretch where we played a casino in the middle of New Mexico. It was a converted bingo hall. And I swear there were people with daubers walking in, like the bingo daubers. And they looked disappointed when they saw we were doing standup.
Tiffany Vine
They had their troll dolls all ready?
Dave Gilbertson
Yes, exactly!
And then they see that there's standup comedy and they were all just kinda like, "Ughh....Really?" You couldn't get a tougher audience. And then, like a few days later, he played a nonprofit benefit/charity event in Washington, DC. It was Larry King's heart charity. And the whole audience was celebrities. It was Louie co-headlining the event with James Brown, the godfather of Soul. Or as Louie called it - "the hardest working man in show business with the laziest man in show business."
Tiffany Vine
That's a natural pairing, too.
Dave Gilbertson
Ohhhh.... totally, yeah...
Seeing the two of them together was fascinating. And then a few days after that, he played a sold-out theater in Minneapolis. 4,000 seats. And afterwards I went to him...we were on our way back to LA after that last show...and we would always do a debrief and I said, "Louie, I've got to say, you couldn't get three more different audiences than those three, right? The bingo goers that are disappointed, the celebrities, and then a packed house in a 4,000 seat theater." You couldn't get more different audiences, but he brought the same energy, got a very similar audience response and seemed to get just as much out of each of those experiences. One was no better or worse than the other, and I said, just from a leadership standpoint, "how on Earth do you do that?" Because it's just human nature, right? We're all going to get a little bit down when we see all those bingo daubers out there. And celebrity audiences are notoriously challenging...4,000 seat theaters...that's gonna intimidate most of us. And he said, "Dave, you're thinking about it all wrong." He said, "I've got no control over the theater. I've got no control over how good the promoter is at getting people in the door, or how they're marketing the event. But I've got full control over how much fun the audience has once they get there."
Control the audience, not the venue. And I thought, man, how many times in the 20 years since then have we, in all of our lives, how many times have we said, "Well, we didn't succeed, but it was because of this, or the competitor did this...there was nothing we could have done." And I just think back to that experience all the time. You would have had every excuse in the world to just kind of phone it in on that first show...it's the middle of New Mexico. This was pre-iPhone. No videos would have gotten out and if he had an awful show, he still gets a paycheck and it wouldn't have been a big deal. And it was so fascinating to see that as a leader, you are always on, and there are always lessons you can learn personally by giving it everything you've got, even when everything around you would suggest that you maybe don't need to.
And I thought, man, from a leadership standpoint, there really are a lot of lessons just in that experience. I think that attitude was what allowed him to stay up and have an unbelievable show in front of 4,000 people, right? Or when he'd be on The Tonight Show with Johnny Carson or Jay Leno and just be able to move millions in a 6-minute set. The only way you can do that is if you treat that bingo audience in exactly the same way that you treat a big audience, and eventually, it kind of catches up to you.
So, I thought there were fantastic lessons there and that actually led into... kind of fast forward a few years... the tour is over, I go to Business School, I come out, I'm kind of doing some strategy consulting for a few years and then I go into the software world, but Louie and I stayed great friends. He was an honorary groomsman at my wedding, and we'd talk every couple of weeks and he just was one of my closest friends in life. But when your friends with a comedian, you're always feeding him or her a line, right? You can't help it because we all think that we're hilarious. Few of us are.
Tiffany Vine
I tell Carlos I am hilarious all the time.
Dave Gilbertson
So I had fed him a line at one point and kind of early in his career, he would write for folks like Henny Youngman and some of the old school comics. He rarely used lines that other people wrote, himself. But I kind of fed him this line - it was about the Minnesota Vikings - which he was a big fan of - and he kind of laughed. Then a couple weeks later, he came back and said, "Hey, I used your line and it actually saved the show that night. I was having an impossible time getting through to this audience and all of a sudden that line just clicked." And he said, "You know, you're a really good writer. If you ever want to open for me in Las Vegas, go for it." And it took me about a split second to say, "Absolutely."
Every comedian dreams of going to Vegas. Actors have Hollywood and Broadway and comedians have Vegas. And I had kind of found a back door in and, you know, all the excitement...we talked about it and we got a date nailed down and then I hung up and realized, I'm not that good. That was a really critical insight, right? If you think about decision making skills, that was a really important thing to forget at the wrong moment. And so for the next three months, pretty much every week, I would go and do an open mic. And the open mics were absolutely awful. I would record every one of them as I was coming up with the material. I needed to get up to about 10 minutes. In three months, I needed to get up to 10 minutes of material for a Vegas audience. And so I would do it like two or three minutes at a time. And I just kind of keep working through it - every month I had to get another two or three minutes. So I'd record every one and I'd listen to the recordings afterwards and the recordings were crystal clear. There was no interruption for laughter or anything like that.
Tiffany Vine
No editing necessary.
Dave Gilbertson
Oh no!
But I also knew that I had been to, oh I don't know, a couple hundred of Louie's shows at that point? And I knew that an open mic audience is different than Louie's audience. Louie's audiences are usually parents, at least in their 30s, 40s, 50s, maybe even 60s. Louie's a completely clean comedian. They're looking for clean comedy. Open Mic audiences...not so much. And so I'm like, all right, it's not clicking with this audience, but I need to have the confidence to know that it will with his audience. Because although I can't say that I know standup comedy, from the stage standpoint, I absolutely know Louie's audience.
And so I had to have that confidence and over time at the end of three months, it started to come together and I did a three-night-run in Vegas, right on the strip. I had a bunch of friends and family there kind of cheering me on. It was one of those opportunities in life that don't come around very often. And I think the lesson I took away from that afterwards is...think back to how many times have you personally failed recently. And I started noticing, especially the more successful folks you talk to, the more senior you get, the older you get, the less comfortable you get failing in front of people. And it's such a shame, because as a leader, the more you can show that vulnerability, the more people are going to actually gravitate to you.
I think there's this fear that they'll see you as something less if they don't see you doing something perfect. And it really crisply showed me that if they see you as human - they don't see you as something less. If it doesn't go perfectly, but you're comfortable in your own skin and you recover effectively, then all of a sudden that actually draws more people in than if you had just pulled it off flawlessly. And so I actually celebrated those painful open mics and the losses along the way because I did want to be more vulnerable in showing that, hey, I'm learning something here that I don't know how to do. And I got a really big payoff at the end that's really not going to go well if I don't figure this out.
Tiffany Vine
You know something I found interesting, Dave, from your Ted Talk and a couple of the other podcasts we've done? We did two other podcasts with former professional athletes, Fran Tarkenton and Anders Eriksson, and both of the major takeaways from those were that practice makes perfect..or maybe not perfect but practice makes better as you say, and that if you stop failing, you stop learning. And to embrace the failures and find success, which is interesting, then, since you had a Minor League Baseball career. Do you think that those are lessons learned from being athletes when you're young?
Dave Gilbertson
That's a really good question. I haven't thought of it in that way. So I've got three little kids right now, they're 12, 9, and 5, and they're a little bit into sports but not too into sports. I think they inherited some of my sports capabilities, but not the sports interest, so not on the All Star team, we'll put it that way.
And I notice how quickly, especially my youngest, my 5-year-old, how quickly she'll pick something up. Like when I was teaching her softball not too long ago. We played for 20 minutes and she didn't connect a single time. Not a single time. And she came in and was telling my wife that she had so much fun. I'm like, oh, that's really interesting, right? There was no indication that there was any amount of success at all. And yet she had a blast! And I'm like, OK, so then the next time we played, she got a little bit better. And then the next time she got a little bit better and you start to realize, I think especially with kids, that of course you're going be awful when you start something, right? They all are. It's just that as kids, we're so much more comfortable with being awful because you don't have those expectations put on you.
Whereas I think once you start to kind of choose a career and you start to hone in on what you're really good at and then you're rewarded for it, you get a little bit more and more senior and you start to get less comfortable moving outside of what you know you're good at and it's such a shame. You're right, that I've said over and over again that practice makes better. It doesn't make perfect. It'll never make perfect, but it does make better and I think that's why, you know, back in the standup comedy world, you see comedians playing a random comedy club on Tuesday night at 11:00pm in front of 10 people often, because they know that they always have to practice.
I do think it is the same in sports. Just this morning I was reading something about Kobe Bryant when he first started out with the Lakers and his first coach was interviewed, Del Harris, and he said, "The thing about Kobe...he was the number one draft pick and he could have taken that attitude with his teammates. But he didn't say a single thing. And after every single practice, he'd stay active for at least an hour." And every one of his teammates saw that...and he didn't have to...but those are the kind of things that made him so great, and I think there are some lessons there and some parallels with the business world.
If you are the smartest person in the room, that doesn't necessarily get you to the privilege of leading people, right? You actually have to work at it. You have to show empathy. You have to show as much EQ as IQ. These are really hard things that everybody's got to work at. And I think if when you're looking at it from a distance, you wouldn't necessarily assume that.
Carlos Huereca
Well, let's spend some time talking about the business world. Tell us a little bit more about the Human Capital Management experience that you have.
Dave Gilbertson
So, I spent about seven years with UKG, Kronos prior to that. UKG is a software company that helps companies manage their people. They provide all the software from hire to retire and everywhere in between. We did payroll, we did HR and things like that. Over that time I got to spend a lot of time with a bunch of different types of customers. Most of my focus was on the small business world - I was chief customer officer for their SMB platform. I love small businesses and local businesses in this country. They are just those entrepreneurs that just inspire me and I got to spend a lot of time with those leaders and those HR executives, trying to figure out in a really challenging talent environment, how do you keep the people that you've got and how do you how do you recruit more people? And I think what really started getting crisp for me was...right when the pandemic hit...we started asking exactly the same questions everyone else was asking which was "if we're in a downturn, how long is this going take?" when effectively everybody was furloughed and there was kind of no one working in the country.
So how does that affect the labor market? It was stuff that we had never seen before. So we just went back to our data and we have part of our business managing the time and attendance and schedules for hourly employees all over the country. And it turned out that we had a pretty solid percent of the hourly employees around the country and we knew where they were working or if they were working, like yesterday.
At that time, right when the pandemic hit, the whole unemployment infrastructure in the country broke down. So as a country, we genuinely had no clue exactly how many people were unemployed. I interviewed the head of the Bureau of Labor Statistics recently, and I was asking him about that time, like, how did you lead the Bureau of Labor Statistics during this environment? And he said, "Well, honestly, everything we do is based on surveys." He said when they would survey people, even the people we were surveying didn't really know if they were unemployed. So how are we supposed to report on this?
So we just started tracking that data and it uncovered some really interesting statistics about what's going on with the labor market in the US. I think the big takeaway for me was that we are absolutely in a demographic emergency in this country. There was a lot of speculation that it's really hard to hire right now, but that's because no one wants to work because of COVID and once COVID is done, then it the labor market's going to free up and it'll be a lot easier and we saw that, no, that's absolutely not what's happening.
We have all kinds of baby boomers who have completely reversed course. They had actually been retiring later and later and later, heading into the pandemic, for like 20 years, right? People have been retiring at an older and older age, and that stopped during the pandemic. And so all that whole group retired, kind of, en masse, right about the same time. And at the same time, we've had an urgent emergency with folks that are like 24, 25 years and under...they've actually been declining the labor pool for the last 20 years. Their labor participation has been going down, down, down, down. People are getting married later. They're living at home longer. They're waiting to have kids longer. Church participation is down 20% in this country, which blows me away. Doesn't matter the religion. But it all comes back to that there is less of a connection that young people have to their community today than they've ever had. So you bring those two data points together and we have, for the next probably 20 years, a real emergency going on in this country because as hard as leaders are working to recruit people, it's not going to get better anytime soon.
I think that's where they're going to have to make some real changes in culture, changes in how they treat the employees that they do have, to be able to get through this because overall we have just as many people working today as we did pre-pandemic. They may just not be working for you.
Tiffany Vine
Is that your biggest advice around retention? Is it around company culture and benefits, things like that, that you provide current employees? How do you counsel companies to fight this?
Dave Gilbertson
Yeah, so our biggest advice, as I've been speaking on this topic around the country with a speaking partner, and he and I always try to reinforce with leaders...think really hard about the currencies you've got at your disposal. It's not about dollars, right? Every survey that we've seen or we've done has said that when you ask employees why they're staying at their job, usually pay is about #5 on the list of about 10. Usually pay is about #5. But it's things like...I feel heard. I feel supported. I feel like I'm in an environment where I can develop. I've got leadership opportunities. The benefits are what I'm looking for. I've got flexibility to spend time with my family. Those are all the things that come up ahead of pay. Pay is important, don't get me wrong, you can't underpay.
But some interesting stats recently said that right around 2/3 of people that are paid on average think they're underpaid. And something like 40% of people that are actually overpaid, compared to the average, also think they're underpaid. So we always say, "you can't buy your way out of this, it's going to be impossible to buy your way out". And because we know that labor participation is at about the same level across the country, outside of those two edge demographic groups, about the same level as it was pre-pandemic, we've got exactly, almost to the number, the exact same number of people working in this country. And yet we've got 4.5 million more jobs available than there are people to take them. So if you're going to compete for really high-quality talent in this environment, you better offer all of those other things that used to be kind of framed as kind of fuzzy and kind of touchy-feely, and now all of the sudden, it's not really touchy-feely because employees are saying over and over and over again, those are the things that we care about.
Sure, you've got to pay fairly, but that should be kind of common sense at this point. It's these other things...and that's where I think what you guys do to help executives and folks that are relocating get comfortable in a new community...I mean, that's the highest risk hire you can have. If you can invest behind really ensuring that the employee, and just as importantly, or more importantly, their family are feeling comfortable, there is some unbelievable value there. I personally think that that value is going to last over the next 20 years because I again, I don't think that this hiring environment is going to get easier anytime soon.
Carlos Huereca
Dave, I really like your approach to just thinking about these topics and these concepts from a data standpoint and looking at what the data is saying. I actually worked for one of your former competitors, Automatic Data Processing (ADP) for almost 10 years and I was also supporting small businesses for a long time.
Dave Gilbertson
Yes, they do a great job at that.
Carlos Huereca
And I just wanted to just make a comment around demographics and flexibility. Tell us a little bit more about the importance of flexibility with the Millennials, the Gen Zs, that probably is required today to be able to not only attract talent, but retain the talent that you have in the business.
Dave Gilbertson
Yeah, so I would argue that this is one of the last takeaways from the pandemic - that flexibility that you're offering - it's not just for the groups that you mentioned. I would argue it's with everybody. But it's for very different reasons. Initially, with the Gen Z and Millennials, it's that they've come to expect a little bit of flexibility, whereas we used to talk about work life balance, I think that that framework is completely foreign to that demographic. For them, since the time they started working, it's all been about work-life integration. There's no two sides of it. It's, "I have one life and some of that is spent working and some of it is spent living, and I've got to figure out how to integrate that. But I want to be the one that's got some control over how that happens." So for them, that's where they're thinking flexibility.
I think for the next group up, the Gen Xers, who I've seen some call the sandwich generation, and I've seen others call, I think in a more positive light, the caring generation...where in the pandemic I think that group was probably squeezed as hard as anybody, where you would have folks in there, mid 30s to maybe lower 50s, that had kids at home, undergoing all kinds of chaos, from a schooling standpoint, from a schedule standpoint, where consistent schedules are so critical with kids and all of a sudden in the pandemic was just thrown up in the air. And, all of a sudden, you're more worried than you've ever been about your parents. And you're just getting to that age where you're now expected to help take care of parents in a lot of cases. And at the same time, everything at work just changed. And because the whole country was laid off at the same time, and fortunately they came back pretty quickly, but we didn't know that at the time.
You had all kinds of financial stress for that group as well because you had people pulling on you on either direction and then knowing that in order to keep that balance, I've got to keep the financial piece up and the only way I could do that is if I keep my job. That was an incredibly devastating time for so many folks, and so I think as companies figured out a way through it, at least the better ones did, and how to get comfortable in giving your employees, whether they're frontline or more senior leaders, the flexibility they need to say "this is the job you've got to get done, how you do it and when you do it, it's kind of up to you," but you now have this flexibility from this, I think that's going to be a lasting impact from the pandemic, and then even with the older groups, with the baby boomers, we've seen just in the last six months, we didn't see any recovery in their labor participation for 2 1/2 years after the pandemic started.
Just in the last six months you've started seeing a little bit more of a recovery in that group and a lot of that has to do with companies that are starting to get pretty savvy to say, you know what, maybe we don't need this role to be full-time. Maybe we need it to be part-time and we can let you choose which 15 hours a week you want to work. Well, that's probably going to be really attractive to a 65-year-old that retired a year ago and now is bored. It's a way to stay engaged, but on my terms.
Carlos Huereca
Do you feel that is where we're heading over the next few years? By 2030, the Baby Boomer generation is going to reach retirement age. I think we recently wrote an article about Peak 65 and the challenges that are going to come with Baby Boomers reaching that age. Do you feel that organizations are getting to that point where they're bringing them back, maybe on a part-time basis?
Dave Gilbertson
Really, really early indicators. So I think they're going to have to reach that point over the next couple of years. But I think they've been fighting it tooth and nail.
Part of this is a return-to-work conversation. Part of it is overconfidence in the first couple of years after the pandemic that once this starts to ease, recruiting is going to get a lot easier, and I don't need to make some of these accommodations. But I think that more leaders are starting to recognize that we do have a demographic issue here. There just aren't enough people in this country to take the jobs that are available, and so in order to get them, we're going to have to do something creative. I think that's one of the things that they're doing. I will say that the one thing that could really change the game here is immigration.
The immigration data I found fascinating, and this is another data point that I think is kind of counterintuitive. It's turned out that for about 10 years between 2009 and 2020, the number of working age legal immigrants increased in this country every single year. So this was not a political argument. It didn't matter which presidential camp administration was in place, it was every single year it had been increasing, and then it went way down, obviously, in 2020, and for a very good reason. And for most countries around the world. We recovered a little bit in 2021 and then a little bit in 2022, but right now we're about a million people short of where that trajectory from the prior 10 years would have put us. And so if we say there's 4.5 million more unemployed people, sorry, more jobs available than there are people that take them, well, that's a million of them. Right? And the Baby Boomers are another 1.5 million of them, so now we're up to 2.5 million.
Carlos Huereca
Right.
Dave Gilbertson
The quit rate has gone up really dramatically and it's gone up enough that you have about 3 million more unemployed people at any given time in this country that are actually just out of the labor force as they may be considered to be employed because they're in between jobs and they've already accepted the job, but they're taking a couple weeks.
We had 52 million and 51 million people quit their jobs last year, and so at any given time, there's about 3 million that are in that in-between state. Well, now we're up to almost 6 million people, and 4.5 million jobs that were short, right? I mean, it's these little changes in society that have had this outsized impact in the labor market and if some of that behavior changes, then maybe my answer would change. I don't think it will, I don't think it's going to get easier to pave the way for more working age immigrants to come into this country. So as a result, I think companies are going to have to make accommodations like this.
Carlos Huereca
Yeah, I agree. And you know, we appreciate the shoutout that you gave us earlier and that's certainly where we focus in helping organizations really see the value in hiring an organization that can help with their mobility of their talent, and certainly international mobility. It's a big part of the puzzle, so it's going to be interesting over the next couple of years.
Dave Gilbertson
Yeah, it absolutely will be. I think what you guys do makes all the difference. Actually, I relocated to Hong Kong for about six months really early in my career. I grew up in North Dakota, I did not speak Cantonese, not even a word of it. So it was a really big deal and I didn't have anybody around me helping me out. I kind of landed, I had an office address and a hotel address, and somebody had been nice enough to write both of those in Chinese on a piece of paper and that was it.
Tiffany Vine
And you just showed it to people?
Dave Gilbertson
Yeah, I did. The taxi driver...that was all, because none of them spoke English. I didn't know they were taking me, so I just showed him the address on my card. I ate McDonalds, I think, 60 straight days at one point. So again, it goes back to "how much are you smoothing the path for those executives that are making the move?" I was young, I think I was 22 at the time, and wasn't relocating with a family or anything but still, if I had had anybody to help me smooth the way, I know that I would have had a more successful time in my job and I would have had a better experience personally. So I think what you do is absolutely critical in easing those transitions.
Carlos Huereca
Dave, I was at the National SHRM Conference earlier this year and I remember going into one of the sessions and if my memory serves me well, the topic was around senior leaders - "the Year of Senior Leaders" was actually the name of that class. They talked about many different aspects of a senior leader and the relevance of importance for a business to be successful. I remember the top three very clearly and you talked about one of them - communication – and the other two were vision and trust. From your experience in standup comedy and working for an HCM and in private equity, how do you find the correlation between trust, communication, and vision, and what would be your advice for HR leaders in our space to really focus around those areas?
Dave Gilbertson
This is a difficult topic that became 10 times harder than the pandemic, because I really do feel like those three things are so intertwined. If you have a great vision but don't have the ability to communicate it and your people don't really believe what you're saying anyway, then the vision doesn't matter. You could say the same about communication and you could say the same about trust, right? If any one of those three is lacking, then your effectiveness as a leader just completely goes away.
At the same time, if you think back to how companies actually encourage that, how do they train for it... they don't. The vast majority of folks get to a leadership path by going on this path, which is all about how do you achieve excellence in your specific functional area, and I'm going to measure you by the output, usually from your team. And as you show that you can handle more output, you're going to get a little bit more senior role and then you can handle more output and you meet your goals and you get a more senior goal and all of a sudden you get to a point where you're overseeing hundreds of people and you've maybe cut some corners along the way, you haven't really figured out how to go outside of your office and actually be among your team. And it's not going to work. And I don't think that I can think of a single leader that has gone down that path and if they didn't learn those three things along the way that where it's actually worked right, usually you got to get smacked in the face pretty hard before it works.
To go back to stand up comedy, one of things that I talked to Louie about a lot was that idea that I mentioned earlier around there is something amazing that comedians do when they're standing on a stage and they're moving an entire audience with nothing more than a microphone. We had some really good conversations around how exactly do you do that, because obviously you can't really show that you're nervous, but you do want to show your vulnerability, to our earlier conversation. And because of the lights, you can only see a couple rows in, you can't see all of the folks that are out there, but they can all see you, and they all want to think that they've got your attention. And he said, let me give you a little cheat code. If you can pick out one person, one person stage left and one person stage right, that you can make direct eye contact with, usually in the first couple rows, and throughout the show, on a punchline, go right back to that same person, they are going to feel this kind of warm glow around them and they're going to feel such a tight connection with you that everyone around them is going to see it. He said it's really powerful to see that when you've got that connection and everyone else notices, and everybody else wants to be inside that bubble. That is trust. He said if you can get that trust - it's not going to happen right away - but if you can get that trust, then all of the sudden, the audience will go wherever you want them to go.
Now over time, that trust can be erased very quickly, and that I think goes to the vision piece. If you don't have the right vision to actually take them somewhere - they're going to give you a little rope, but they're not going to give you a ton of rope - but man, once you've earned that trust, you got to be so thoughtful about how you actually go forward and thoughtful about how you're communicating, thoughtful about, I think, the more senior leader you get, the more weight your words have. And I think that's something that most leaders learn with, again, a smack in the face. Because they're like, no, I was just suggesting that maybe this would be interesting and then all of the sudden, they find a team has gone and tried to figure the whole thing out. It only takes a couple of those to learn that, man, my words actually have more weight than I realize. I really need to be thoughtful about exactly what I'm communicating and how I'm communicating it because I've built up this trust.
Carlos Huereca
I love that.
Dave Gilbertson
I like that triangle. I like those 3 things. I think they are really intertwined.
Tiffany Vine
And you can always tell the difference in a workplace that has a leader that has just worked up incrementally like you mentioned, and someone who has the dynamic soft skills of being a leader and it kind of goes back to HR. Whether you're hiring people with experience or whether you're hiring people with the right attitude, the right skills that you can teach, you know it goes all the way from the bottom all the way up to senior leadership, I think.
Dave Gilbertson
Yeah, very true, very true.
Carlos Huereca
Dave, tell us a little bit more about your personal life. I know you mentioned you have three kids. We often talk at the workplace about work-life balance. I like to talk to people about work-life integration, which you mentioned it as well. Tell us a little bit about how you balance work and life.
Dave Gilbertson
Yeah, so I feel like once you get up to three kids, three is way more than 50% more than two. Everybody we talked to, my wife and I, everybody we talked to when they found out we're having three kids, they all said the same thing, "Oh, you're going from man to man to zone defense."
Tiffany Vine
They outnumber you now.
Dave Gilbertson
Yeah, we had escape routes before. There is no escaping it at this point. It takes us 1/2 hour to leave the house.
Carlos Huereca
Sometimes 45 minutes. I have three of my own, so I totally get it.
Tiffany Vine
Wait till they're teenagers. It's even longer at that point.
Dave Gilbertson
And so what I realized during the pandemic was my youngest was two when the pandemic started and my two older kids were doing school from home and it wasn't really until we had gotten back to the office, even just going back one day a week, that I really realized how much my family had kind of inserted themselves into my team's lives, because the number of people that asked me about whether my 3-year-old was out of diapers yet. They knew that because there were a couple meetings where she came blasting into my office and said, "Dad, can you change my diaper?" Alright, well, I'm actually on a call with 100 people here, but absolutely. Or they'd hear somebody screaming and I'd have to say, "I promise there is nobody being abused. I guarantee that somebody had crusts on their bread at lunch, and that's what's going on out there."
But I think you do underestimate just how much grace people are willing to give you. I felt like the strongest leaders that I saw kind of around me both on my team, and kind of the folks that I worked with, were the ones that immediately owned it, acknowledged it, and didn't try to paper over it. We saw some of those folks that quickly got the perfect background, and for the first year of the pandemic I was working out of my dining room because my kids had taken up all the other spaces in the house, because they were doing school. I did feel like the more you can own it, I think the better. And again, I think that's something that is going to be lasting coming out of the pandemic as people return to work.
Some of it goes back to some of that flexibility that they kind of got used to. Well, you realize as it gets harder and harder to recruit people and I think the number of people quitting their jobs in this country, it's also increased every single year since 2009. I think it's kind of plateaued over the past six months or so, we'll see how the back half of the year goes. But we had 51 million people quit their jobs last year and you know that if they had a supportive boss who allows them to blend life and work more effectively in a way that works for their individual situation, you know that they would be much less likely to quit their job.
But you're seeing burnout, all of a sudden, pop up all over the place. My sister just quit her job last week and she's a partner at a marketing consulting firm and was completely burnt out. Two kids at home, single mom and she has no job lined up and she's like, I feel like I can't do this anymore, but I am totally scared by what's going forward and I don't feel like anyone else understands. So I actually brought up LinkedIn for her and I said let's just see what's on my LinkedIn page. We found three different people just on that first scroll through LinkedIn that had exactly the same situation. Senior leader leaving, I have no job that I'm going to, but I just need some time. And I feel like that is coming out of that caring generation or the sandwich generation that was stressed with their kids, stressed with their family and stressed at work. At some point, something's gotta give. I feel like the best workplaces, the best cultures, that kind of figure out a way through that are the ones that are going to retain the best leaders.
Carlos Huereca
I agree. I was reading an article this morning, actually an HBR (Harvard Business Review) article about burnout and effort and how organizations, successful organizations, are moving away from asking 100% effort from their employees to now asking 85% effort. To really not think about, like always having to be at the top of your energy level to accomplish a goal, but rather 80-85% can get the job done and it doesn't mean that you won't have weeks or days at 100% level, but the article was talking about how you should move away from always expecting every single day being at 100% because then you cause burn out and people to think, "Is this the right place or the right culture for me?"
Tiffany Vine
It doesn't factor in you "being human," you know, or the fact that all of us are human.
Dave Gilbertson
Yeah. Yeah, exactly. That's really interesting. I'd love to see that article. I think it actually goes back to the sports analogy. I've become a runner and every bit of running advice you read is "whatever you do, don't go all out every run because you're never gonna advance." Whereas, if you have those kind of recovery runs, it's the recovery runs that are going to allow you to overachieve, and to get better over time. In the absence of that, your average is going to be your average permanently and I think the same applies in a corporate environment.
Carlos Huereca
Interestingly enough, they highlighted a runner. They said you will not see a runner sprint all the time because they do not move faster.
Dave Gilbertson
Oh, interesting.
Carlos Huereca
Yeah, I'll send that over to you so you can take a look. Yeah. Great. Well, Dave, this has been a great conversation. Thank you so much for your time. We greatly appreciate it. We've taken a lot of great nuggets and the great learnings, and we certainly appreciate your time.
Dave Gilbertson
Absolutely. Carlos, Tiffany, it's been a pleasure to join you. I appreciate your time as well. Thanks so much.
---